News Archive - 2002
Here are the most important news items we have published in 2002 on PHP.net.
---
PHP Look Back 2002
[31-Dec-2002] We are at the end of 2002, and it seemed appropriate to look back on the development issues of the past year. So starts the first PHP Look Back! You can find it in on the non-official personal website of one of the PHP Developers here.
Happy New Year!
---
PHP 4.3.0 Released!
[27-Dec-2002] The PHP developers are pleased to announce the immediate availability of PHP 4.3.0, the latest and greatest version of this extremely popular and widely used scripting language.
This release contains a multitude of changes, bug fixes and improvements over the previous one, PHP 4.2.3. It further elevates PHP's standing as a serious contender in the general purpose scripting language arena. Please see the full release announcement.
---

New Release of the PHP Manual CHM Edition - Please Help Us
[27-Dec-2002] The 11th sample of the CHM edition is available for download from today. The sample hopefully fixed the missing page bugs forever, introduces a new integration method (see documentation inside) and contains actual manual text, mirrors list and user notes. See the edition's page for download.
We also would like to ask you to help out in testing our new on-the-fly syntax highlighter, which would make the CHM significantly smaller, and would give you more options in displaying the pages. See the edition's page for more information.
---

MySQL Users Conference and Expo 2003 in San Jose
[16-Dec-2002] MySQL AB is proud to host the world's First Annual MySQL User Conference, to be held in the heart of Silicon Valley, April 10-12, 2003. This event promises to be the biggest gathering of MySQL database users ever in one location. Designed for both the MySQL developer and the corporate decision maker, this is the place to learn about the latest in MySQL technology, discover new business opportunities, take a pulse on industry direction and commune with like minds. More information on the event's website.
---
PHP news feed available
[01-Dec-2002] The news of PHP.net is available now in RSS 1.0 format via our new news.rss file. You can add this file to any news reader or portal site to get the latest official PHP news. We strongly recommend you to cache the contents locally on your side, as the newsfeed is updated daily. The RSS file is available on every mirror site.
---

Forum PHP 2002 in Paris, France
[21-Nov-2002] The French PHP User Group AFUP invites you to the "Forum PHP 2002" in Paris, on December 9th and 10th. Designed to meet the needs of PHP aware companies and all the French PHP developper's community alike, this event will provided you with valuable and up-to-date information. For more information (in French) see the PHP Forum website.
---
PHP Magazine - International Edition
[17-Nov-2002] Software & Support Verlag GmbH is going to publish an International version of the PHP Magazin. This magazine was initiated after growing interest for an English magazine after the German version has been around for a few months.
PHP Magazine not only informs about the scripting language itself, but also about related technologies such as the Apache Web Server, database technologies, XML and other innovative internet technologies. Different sections within the magazine are oriented towards the specific question areas with which a web developer is confronted in daily practice.
The first issue will be published in December and the frequency of issues is two months. You will be able to subscribe on the website which will open shortly.
---
New Monthly PHP Magazine Launched
[15-Nov-2002] php|architect, a new monthly magazine dedicated exclusively to PHP, has launched its website. php|a is published in PDF format and is available worldwide. It covers a variety of advanced topics ranging from day-to-day programming to the internals of PHP. A sample article on the creation of a web-based PDF converter is also available on the magazine website
---
PHP Search Bars available for major browsers
[29-Oct-2002] We added a new option to access our site's content quickly. In addition to URL shortcuts, keyboard shortcuts and browser specific magic you can now use our Search Bar from the major browsers. Please help us to test this new service, and provide feedback via the bug system (categorize your bug as a PHP.net website bug please).
---
PHP at the LinuxWorld Expo Oct. 29-31th in Frankfurt, Germany
[28-Oct-2002] For the first time the Open Source projects comprising the popular LAMP platform (Linux, Apache, MySQL and PHP) will be present at the LinuxWorld Expo with its own booth.
At the booth, which is organized by the German PHP Association and the PHP Usergroup Frankfurt, fair visitors can experience and learn about Apache, MySQL, PHP and related projects.
Visitors can take LAMP home, too, since there will be a CD with the necessary software available at the booth.
---
New keyboard shortcuts
[17-Oct-2002] We introduced new keyboard shortcuts on the site today to make our pages even more comfortable to use. You can hit Alt+S on Microsoft Windows or Ctrl+S on Macintosh now to go right to the search box and type your search keyword. A similar shortcut with the letter "L" is also introduced on the manual pages to access the lookup input field. Thanks to Tommy Ipsen for the suggestion. You can read more about keyboard shortcuts on web pages in the HTML standard.
---
PHP 4.2.3 Released
[06-Sept-2002] PHP 4.2.3 has been released with a large number of bug fixes. It is a maintenance release, and is a recommended update for all users of PHP, and Windows users in particular. A complete list of changes can be found in the ChangeLog.
---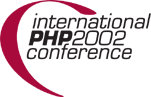 International PHP Conference 2002 (Frankfurt, Nov 3-6)
[05-Sept-2002] After the big success of last year's first International PHP Conference this year's show will be even bigger and better.